90th Year Celebrations conclude on Sunday May 5th.
We joined the parish community of St Thomas the Apostle, Blackburn for Eucharist celebrated by Frs Chris McPhee, Provincial, Missionaries of the Sacred Heart, and Terry Bowman, Parish Priest. Lovely parish hospitality followed. 
Sr Mary Drum reflected on the gospel call of these Easter weeks and the spirit of our beginnings here in Australia. The following is an excerpt. Speaking of our Founder, Fr Hubert Linckens, MSC and his vision, she said, "Thus, for our founder, integral to our call is to have the Nationality of Love.  
As our current constitutions say of our mission, "In the light of the Gospel, we are to respond to the needs of our day and assume the risks of this challenge."
So although the congregation was only founded in 1900, since the need was urgent the first Sisters sailed for the Marshall Islands and New Britain in 1902, just two years after their foundation.
Thus, the beginning of our Congregation here in Australia was in response to the need for rest and recuperation for our Missionary Sisters who had been working in the New Britain /New Ireland area of P.N.G. for just over a quarter of a century.  
It is impossible here to recount in detail all that happened in the succeeding years……………. responding to the needs of the day, in diverse ways in many contexts.  And this too was in keeping with a key belief of our founder who held that:
Times change, but wise are those who go along with the present, evaluate it, understand it and utilize it.
Now- as the 90th anniversary year of our sisters arrival in Australia draws to a close we can look back with wonder and gratitude :
* wonder – at all that has been accomplished in spite of difficulties and our human limitations
* gratitude  – to all who have faithfully accompanied and helped our Sisters through the years: former members of the Congregation; family members; nursing and hospital staff; school staff; parents; parishioners; priests; other religious congregations, past pupils; friends; advisors and our dear deceased members.
And above all *gratitude  – to God   – who shared with us the love of the Heart of Jesus as the inspiration and the foundation of all.
2019 brings a new time and new challenges for us as a Province, as well as challenges for our Australian society and for our world.  But, we seek to go forward to the future with courage and confidence trusting in God's providence praying that the Heart of Jesus will be loved everywhere – forever.                       Alleluia ! Alleluia !"
……………………………………………………………………………………
PALM SUNDAY 2019 PRAYER SERVICE and WALK FOR REFUGEES CATHOLIC COMMUNITY ARCHDIOCESE OF MELBOURNE.
………………………………………………………………..
Community gathering: final meeting and farewell to Sisters Bonaventura and Nicola at the conclusion of the Visitation.
 MSC SISTERS GENERAL CONFERENCE  2019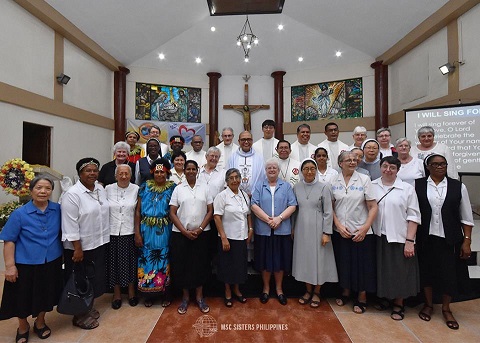 MSC Sisters are gathered in Manila for our 2019 General Conference with the theme:
Afire for God's Mission in Today's World 
"I came to bring fire on the earth, and how I wish it were already kindled." (Lk 12,49)

Sisters Mary Drum, Provincial Superior, and Maureen Smith are our Australian representatives.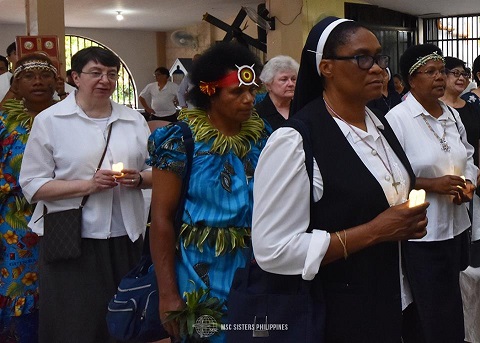 On 1st February 25 years of MSC Sisters presence and ministries in Manila and San Mateo was celebrated beginning with Eucharist
presided by Fr. Leonaro Cabrera, MSC (Philippine Provincial Superior), with the Chevalier Family in Metro Manila well represented.

It was fitting that Mary Drum who saw the beginning of the community in Manila addressed the gathering at the dinner.
Various cultural performances added to the celebration.

MSC Sisters join the reception ceremony of four young men entering the pre-novitiate MSC community at St Thomas' Blackburn.
…………………………………………………..
SPIRITUAL CARE and MENTAL HEALTH SCHOLARSHIP:                                                         
a collaborative project between
Stirling Theological College, a member college of the University of Divinity
and the Missionary Sisters of the Sacred Heart, (MSC Sisters)
Congratulations to Angela Sasso and Rachel Garofalo, the first recipients of this scholarship beginning in 2019.
As noted previously this scholarship honouring MSC Sisters' 90th Anniversary of Australian Province.