Saturday November 26, 2016 A time of great joy: MSC ORDINATION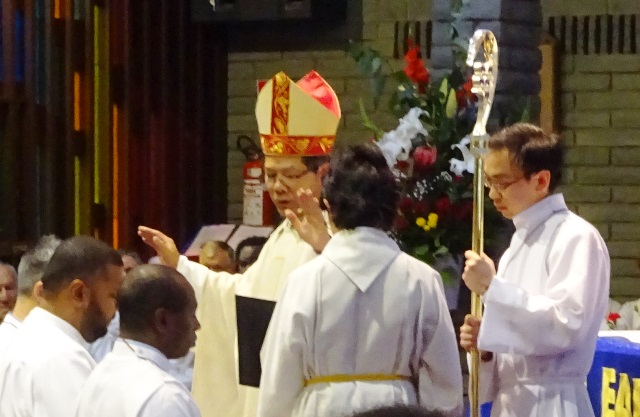 Congratulations Krish, Peter and Kimi MSC on your Ordination to the Diaconate by Bishop Vincent Long, OFM Conv., Bishop of Parramatta.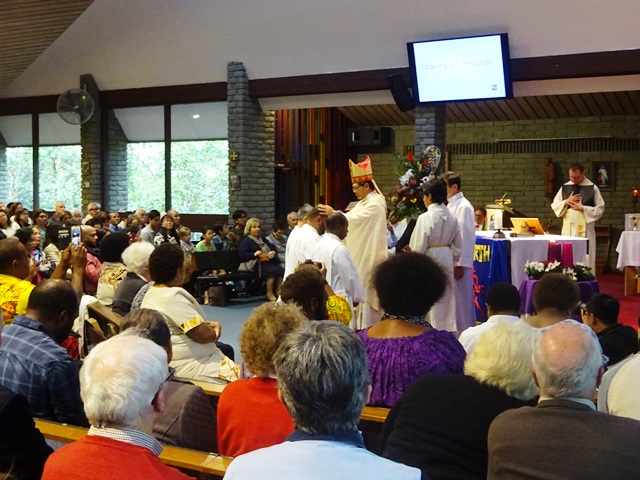 ———————————-
ADVENT GATHERING 26 November
You are the voice inviting us to new heights
         – Come Lord Jesus
You are the light to guide us on our journey
         – Come Lord Jesus
You are the source of our peace
        – Come Lord Jesus
Sr Mary Drum lights the first Advent candle.
———————————–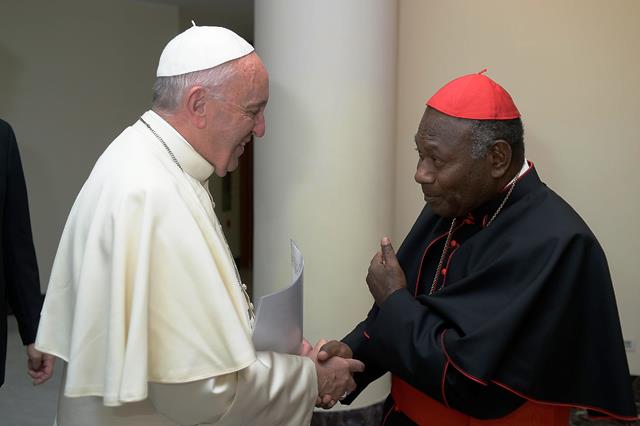 In the consistory of November 20, 2016, John Ribat, MSC, Archbishop of Port Moresby, would be created a cardinal of the Church. He is the first MSC cardinal and the first cardinal from Papua New Guinea. His appointment underscores his own service of the Church in PNG and his leadership on a number of moral and social issues. He adamantly opposes the death penalty and is a proponent of simple life styles in order to protect the environment. His appointment brings MSC charism and spirituality to the government of the Universal Church and to the next conclave.   Congratulations Cardinal Ribat!
——————————-
It's Time To Bring Them Here – Australian Catholic Bishops Media Blog
"One of the greatest crises of our day is the plight of people forced from their own countries by war, persecution or poverty and forced to live without a home, without safety and often separated from their families, "Archbishop Denis Hart, President Australian Catholic Bishops Conference said today (13 October 2016)
Complete statement at: http://mediablog.catholic.org.au/it-is-time-to-bring-them-here/
—————————-
MEDIA RELEASE

15 September 2016
BOUQUETS TO FEDERAL PARLIAMENT ON BUDGET REPAIR
Catholic Religious Australia, the peak body of religious institutes in Australia, congratulates the
parties within the Federal Parliament who collaborated to seek a fairer change in 'budget repair'
discussion and not cut the energy supplement to welfare recipients.
……………….
CELEBRATING JUBILEE
Interview with our jubilarians Srs Francis Baum and Jacquelyn Bender by Staff of Melbourne Catholic can be viewed at:
…………………..
JUBILEES DIAMOND and SILVER
Srs Jacquelyn Bender, Francis Baum, Carol Terpstra, MSC
11 September 2016
  In the Judaeo Christian tradition, the Jubilee is a time of thanksgiving for the enduring love and fidelity of God in personal and communal life.   A Jubilee is a time to remember, a time to surrender for the good of others, a time of restitution, a time to realign relationships, to start afresh in grateful trust, in humble acknowledgement that we live our lives always in relationship with others.  And, more often than not we are only able to continue our journey in life through the support, understanding, friendship, compassion and forgiveness of others.  For our jubilarians, that is through the efforts of all of us gathered here today and for this we give thanks.  The mystery of the Incarnation, God's love in human form continues with us.   Sr Mary Drum, MSC Provincial
We congratulate you so warmly for not just what you have done, but more especially for the spirit of Heart in which you have ministered. I always like on these occasions to mention the wonderful message of the English Mediaeval mystic Julian of Norwich. She says that God is grateful to us for all that we do……God is grateful to us. That is amazing, as the inspiration and grace, the power and energy to do it come from the Heart of Christ. Yet such is the tenderness and affection of that Heart that I am sure Jesus looks at us with a gratitude that wells up from the uttermost depths of that same Heart.                                                                                       Homily, Fr Paul Castley MSC
…………………………….
Old age is a vocation. It is not yet time to 'pull in the oars'. This period of life is different from those before, there is no doubt; we even have to somewhat 'invent it ourselves', because our societies are not ready, spiritually and morally, to appreciate the true value of this stage of life. Indeed, it was once not so normal to have time available; it is much more so today.                                                                                                                                                     Pope Francis
2016-17 Australian Catholic Bishops Conference Social Justice Statement  https://www.catholic.org.au/
……………………..
 
Golden Jubilee
Congratulations Fr Phil Malone, MSC   
17 July 2016  
…………………..
MSC presence at Day with Fr Ron Rolheiser, OMI
'How to be Jesus' disciples in an age of scandal and shame.'
7 July 2016
………………….
The National NAIDOC Week begins on July 3rd.  The theme for 2016 is:
Songlines: The living narrative of our nation
…………………..
FEAST OF THE SACRED HEART
3rd June 2016
Australian Film of the Year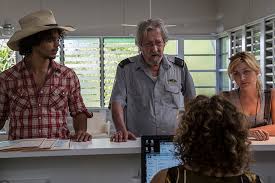 Last Cab to Darwin
named
'Australian Film of the Year'
by the Catholic Film Office
The jury of the Australian Catholic Office for Film & Broadcasting has awarded its annual prize to Jeremy Sims' Last Cab to Darwin (ICON Films. Released August 6th 2015).
ASH WEDNESDAY: LENT, YEAR OF MERCY, 2016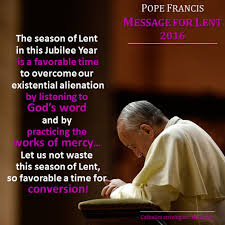 Pope Francis on Mercy and Lent:
"Faith finds expression in concrete everyday actions meant to help our neighbors in body and spirit," the pope said in his message for Lent, which begins on 10th February for Latin-rite Catholics.
Feeding the hungry, visiting the sick, welcoming strangers, offering instruction, giving comfort — "on such things will we be judged," the pope wrote in the message, which was released at the Vatican Jan. 26.
DIAMOND JUBILEE
SR MARGARET SANDERS, MSC
AUSTRALIA DAY, 2016
Sisters gathered at Our Lady's Church, Wattle Park for Eucharist on this day of special significance, which was also the 60th jubilee of religious profession of SR MARGARET SANDERS, MSC.  This was followed by a picnic in a designated park, under a magnificent gum tree.
Sr Margaret with Sr Mary Drum, Provincial.